Laboratory Fume Hoods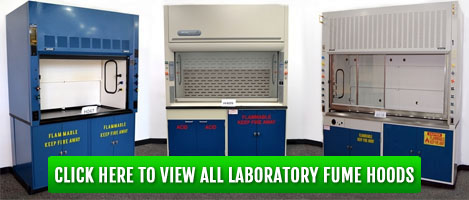 Fume hoods are often referred to as safety hoods or even chemical hoods and are very crucial when it comes to designing your laboratory. This is one of the lab furniture pieces that you don't want to tread lightly on. Laboratory safety hoods are a ventilation device that is designed to limit exposure to hazardous or toxic fumes, vapors or dusts. Laboratory chemical hoods are typically a large piece of equipment enclosing five sides of a wok area, the bottom of which is commonly located at a standing work height.
At National Laboratory Sales, we carry some of the top manufacturers for
laboratory fume hoods
. Some of the brands that we carry are Mott, Kewaunee, Labcono, and NuAire. There are two main types of fume hoods that exist, ducted and recirculating (also known as ductless). They both draw air in from the front side of the cabinet, and either expel outside the building or made safe through filtration and fed back into the room.
If you're in the market for a laboratory fume hood, look no further than National Laboratory Sales for a great place to compare lab furniture. Call our office and talk to one of our expert staff members and find out which fume hood is right for your laboratory! Visit our National Laboratory Sales website to browse through hundreds of laboratory furniture too.
---
Click Any Of The Buttons Below For More Information: