Fisher Scientific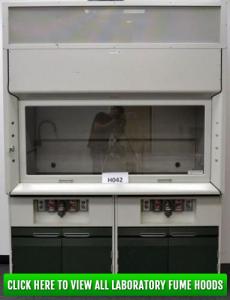 If you're searching for the perfect used Fisher Scientific laboratory furniture or fume hoods to refurnish or upgrade your lab with then look no further than National Laboratory Sales. Created to be an industry front-runner in laboratory furniture; Fisher Scientific provides you with one of the most comprehensive selection of laboratory furniture that are designed to provide you energy efficiency, meets the safety requirements, and the most cost effective! Did we mention that this particular manufacturer product lines that represent the ultimate culmination of safety, performance, and styling?
The thought of purchasing used Fisher Scientific laboratory furniture and fume hoods shouldn't be difficult if you know what you should be looking for. Making a call to National Laboratory Sales and talking to our experts is a step in the right direction for finding a suitable fume hood for your laboratory. Trust that we have all of the solutions for your needs when it comes to finding the right used laboratory furniture and laboratory fume hoods to not only for your lab but for your budget. Let us help you find exact what type of laboratory ventilation hoods and laboratory furniture that you're looking for today.
---
Fill out our form below to contact National Laboratory Sales today and let us know if you're interested in receiving more information about any of our used Fisher Scientific laboratory furniture and fume hoods and furniture today!