Laboratory Cabinets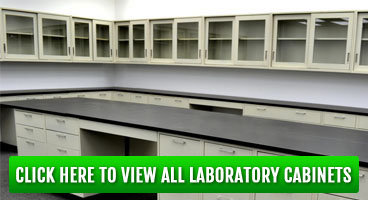 Don't let the thought of purchasing new laboratory furniture be a daunting process. National Laboratory Sales is trusted supplier of used laboratory furniture from top of the line manufacturers who specializes in the creation of
laboratory cabinets
, fume hoods, and other furniture. We help you every step of the way, from the initial consultation to the selection of the cabinet while answer every question you may have.
Our laboratory cabinet selection here at National Laboratory sales are designed to last a long time. Under the typical demanding conditions that they're put through our lab cabinet selection is built to last. Your laboratory furniture should be built to last through the tough times, trust that the cabinets for your laboratory are built with some of the finest materials around that can withstand most elements. If you have any questions, don't hesitate to ask our team of experts.
Here at National Laboratory Sales you'll find extraordinary selection of cabinets. We carry the highest quality of laboratory furniture that range from a wide variety of styles, colors, designs and more. If you're looking to purchase used laboratory cabinets, we're your people! Our experience laboratory design specialists are available for you when you're deciding which lab cabinet to choose. We want to work with you to get you the laboratory cabinets that you require.
---
Click Any Of The Buttons Below For More Information: