Hamilton Scientific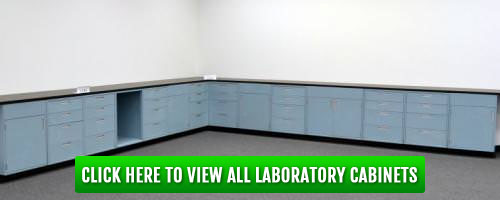 Don't let the thought of purchasing used laboratory furniture stop you from refurnishing or upgrading your current lab. Here at National Laboratory Sales, we are pleased to offer a collection of Hamilton Scientific laboratory furniture and cabinets! Always presented in excellent conditions, the Hamilton Scientific brand is ideal for any laboratory application. These cabinets are designed to be the best solution for your storage system planning and come in a wide sizes and styles to fit your needs when you're planning on refurnishing your laboratory. The Hamilton Scientific manufacturer offers a wide range of base, wall, upper and tall laboratory cabinets in numerous sizes and styles for you to complete your laboratory and storage room project.
Not only does Hamilton Scientific offer the most comprehensive selection of furniture for your lab, they're also a great choice for when your refurnish or redesign project requires creative assistance, renovation, or new construction. Check out the line of used Hamilton Scientific laboratory furniture and cabinets when you're searching for something that's created with industrial grade counter tops, aluminum doors, and drawer handles. See for yourself why Hamilton Scientific is one of the top manufacturer's of used laboratory furniture as well as cabinets.
---
Fill out our form below to contact National Laboratory Sales today and let us know if you're interested in receiving more information about any of our used Hamilton Scientific laboratory furniture and cabinets today!