St. Charles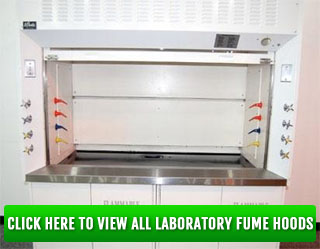 Look no further than National Laboratory Sales when you're searching for top of the line, used St. Charles laboratory furniture and fume hoods. We understand that choosing laboratory furniture can be a hard decision but at National Laboratory Sales we make it as easy as possible! With St. Charles laboratory equipment; trust that each piece has been designed with some of the highest quality steel construction and come complete with a long-lasting finish to ensure that your fume hood will be able to stand tall against some of the toughest situations. St. Charles laboratory fume hoods are a natural choice when low maintenance and trouble-free operations. National Laboratory Sales offers many different styles and colors when it comes to your need for fume hoods and laboratory furniture.
Did we mention that each used St. Charles laboratory furniture are built with a pleasingly finished with a flat, sanitary, and an easy to preserve surface? The line of St. Charles laboratory fume hoods that we carry at National Laboratory Sales are sure to rise above your standards as well as come in excellent condition. Created with these base flammable cabinets with fume hood with valves; why would you need to look anywhere else? Don't just take our word for it though; here at National Laboratory Sales, our team of experts can help help you find the right used laboratory fume hood for whatever you facility needs. Just give us a call and let us help you!
---
Fill out our form below to contact National Laboratory Sales today and let us know if you're interested in receiving more information about any of our used St. Charles laboratory furniture and fume hoods today!