Hamilton Scientific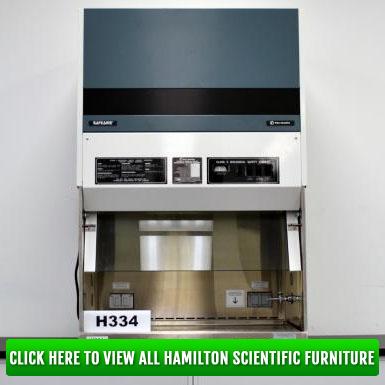 Make sure you check out our line of used Hamilton Scientific laboratory furniture when you're searching for furniture to refurnish or upgrade your your lab, university, or biotech. Hamilton Scientific is one of the industries leader when it comes to designing and manufacturing laboratory furniture and fume hoods. Did we mention that they also offer the most comprehensive selection of used laboratory furniture for your lab? Here at National Laboratory Sales, we always present you with fume hoods and cabinets in excellent condition and are ideal for any and every laboratory application. Let our experts at National Laboratory Sales know what it is that you need from a fume hood for your environment and see if the Hamilton Scientific fume hoods are right for you!
Don't let purchasing used laboratory furniture be a daunting process; our team of experts at National Laboratory Sales are here to help find you exactly what you need. Our selection of used Hamilton Scientific laboratory furniture have been created with top of the line steel to provide you with that much needed reassurance for when it comes time to buy. Not only are these top of the line fume hoods and cabinets, but they're also great for when you're looking to stay within a budget. Don't just take our word for it though; take a look at the used Hamilton Scientific laboratory furniture we offer and give us a call today!
---
Fill out our form below to contact National Laboratory Sales today and let us know if you're interested in receiving more information about any of our used Hamilton Scientifics laboratory furniture today!