Fisher Scientific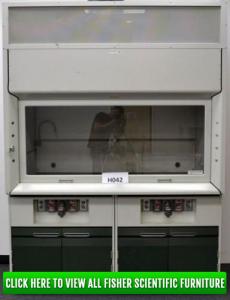 Make sure you check out our line of used Fisher Scientific laboratory furniture if you're looking to upgrade your existing lab or in need of fume hoods and cabinets to fill a new one! Designed to be the industries front-runner when it comes to laboratory furniture, trust that Fisher Scientific furniture will be able to provide you and your laboratory with one of the most comprehensive selections. Fisher Scientific is designed to provide you energy efficiency, meets the safety requirements, and the most cost effective! Did we mention that this particular manufacturer product lines that represent the ultimate culmination of safety, performance, and styling?
Don't let the thought or purchasing used laboratory furniture scare you; let out team of experts help! We can help you find exactly what you're looking for if you're unsure of what you want or need when it comes to lab fume hoods and lab cabinets. Specializing in laboratory furniture, chemicals, supplies, and services used in scientific research, safety, healthcare, and education; Fisher Scientific is a leading manufacturer in producing used laboratory fume hoods and cabinets. Trust that National Laboratory Sales have all of the solutions for your needs when it comes to finding the right used laboratory furniture and laboratory fume hoods to not only for your lab but for your budget!
---
Fill out our form below to contact National Laboratory Sales today and let us know if you're interested in receiving more information about any of our used Fisher Scientific laboratory furniture today!