Envirco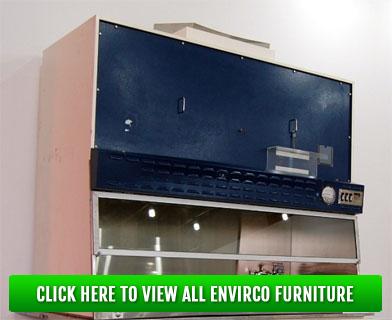 Make sure you take a look at the line of used Envirco laboratory furniture when you're searching to upgrade or refurnish your lab. For years now, Enviorco laboratory furniture and fume hoods have been the trusted lab furniture for educational, healthcare, and industrial applications in laboratories like testing lab for a water treatment plant or entire multi-million dollar research campuses. The Envirco laboratory furniture we carry here at National Laboratory Sales are created with top of the line materials to ensure the the safety in your lab and your staff.
We understand that purchasing any used laboratory furniture can be a difficult process if you're unsure what you should be looking for; trust that the Envirco furniture that we carry is some of the best that you'll find from all around. Taken from clean environments, all of the Envirco furniture we carry come in great condition. Give our team of experts a call at National Laboratory Sales today and see how we can help find you the right used Envirco laboratory furniture today! Our line of laboratory fume hoods and cabinets are sure to rise above your standards as well as come in many different colors and styles.
---
Fill out our form below to contact National Laboratory Sales today and let us know if you're interested in receiving more information about any of our used Envirco laboratory furniture today!