St. Charles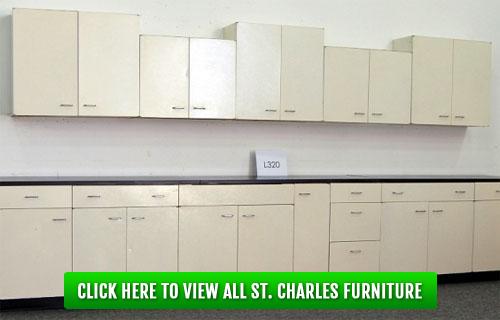 Here at National Laboratory Sales, you'll find extraordinary selection of used laboratory furniture by the St. Charles manufacturer. Their product line is one of the top brands and focus on quality and safety when it comes to your laboratory. Whether you're using their laboratory furniture for education purposes or for a research lab, trust that St. Charles is a great choice. Let us tell you why St. Charles is a great manufacturer and help you decide on which pieces to add to your laboratory. Our experienced lab design specialist are available to consult you every step of the way; starting from the initial consultation through the design phase and all the way to the end where you choose which pieces of furniture by St. Charles will make it into your laboratory.
Built with some of the best steel construction; each piece of St. Charles laboratory furniture is designed with a unique long-lasting finish to help ensure that your cabinets will stand tall against some of the tough situations that may occur in your laboratory. Did you know that the line of St. Charles laboratory furniture that we carry at National Laboratory Sales are natural choice when low maintenance and trouble-free operations as well as come in different styles and colors? Not only do the St. Charles laboratory furniture rise above your standards, come in many options, and come in excellent condition; the laboratory cabinets that comes from St. Charles are also base flammable.
We want to work with you to get you the right new or used laboratory furniture that you require. Did we mention that St. Charle's furniture is built with a pleasingly finished with a flat, sanitary, and an easy to preserve surface? Picking furniture for your laboratory is a hard process; let us show you exactly what you're going to be needing. Give us a call today and let our team of experts find you the right used St. Charles laboratory furniture!
---
Fill out our form below to contact National Laboratory Sales today and let us know if you're interested in receiving more information about any of our used St. Charles laboratory furniture today!