Mott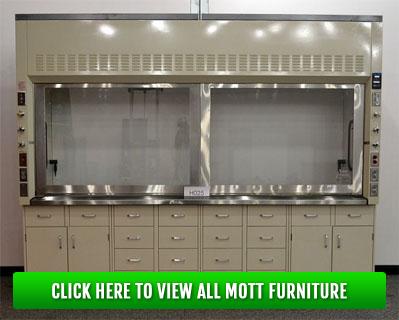 Look no further than National Laboratory Sales when you're searching for the right used Mott laboratory furniture to refurnish or upgrade your lab with. The Mott's brand focuses on industrial, pharmaceutical, education, health care and government markets and has been since the early 1960's. If you're familiar with Mott's furniture, then you know that Mott is a great manufacturer. Mott's lab furniture is designed and manufactured to provide a durable and aesthetically pleasing solution to the increasing operating, productivity, and safety demands of the modern laboratory.
The latest generation of laboratories demands an adaptable workplace environment. Mott offers you a wide range of flexible furniture systems that can fully support change, while sustaining new technologies and users. Since each laboratory's needs are unique, we only carry the best manufacturers and brands that have taken the time to design and engineer lab furniture and laboratory fume hoods to meet your exact requirements. Mott offers many different styles of laboratory furniture for the convenience of their consumer. Did we mention that their lab furniture come in a painted steel, wood, or stainless steel?
The Mott's brand provides complete solutions for all your fume hoods needs. Their wide variety of lab furniture ranges from laboratory casework and cabinets to fume hoods and are available in any color and style at a great price at National Laboratory Sales. Our staff is knowledgeable when it comes to picking the right furniture for your laboratory and can help assist you with any decisions that may seem hard, let us take the pressure off your shoulders and educate you about each manufacturer and each product. Give our team of experts a call today if you're interested in more information about our used Mott laboratory furniture and let us help you find the right fume hood today!
---
Fill out our form below to contact National Laboratory Sales today and let us know if you're interested in receiving more information about any of our used Mott laboratory furniture today!