Fisher Hamilton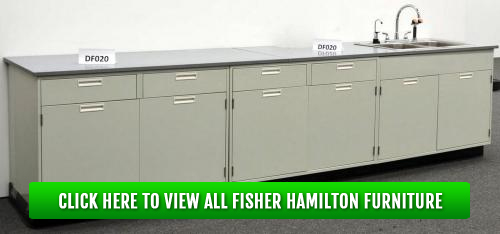 Don't let purchasing used laboratory furniture be a difficult process when you're looking to upgrade or refurnish your lab. Let our experts show you why Fisher Hamilton is a great choice when your project requires design assistance, renovation, or new construction. Designed to have the most comprehensive selection of laboratory furniture for your lab; Fisher Hamilton's products include adaptable workstations, wood and steel casework, fume hoods, epoxy and phenolic resin work surfaces, fixtures and accessories. National Laboratory Sales offers you the top brands for their experience, expertise and breadth of furniture to provide you with the ideal solution for your laboratory.
Concept laboratory chemical hoods have a low flow design, capable of proper containment at lower (60 FPM) face velocities. These laboratory fume hoods provide a higher visual sight line, chain & sprocket counterbalance, and a flush sill/trough to enhance safety and comfort. If this is the type of furniture you're in need of, look no further than National Laboratory Sales for a great price that won't hurt your wallet.
Fisher Hamilton offers more than just chemical fume hoods when it comes to furniture for your lab, their lab cabinets are the best choice for storage system planning. Fisher Hamilton offers a wide range of base, wall, upper and tall laboratory cabinets in numerous sizes and styles for you to complete your laboratory and storage room project. Choose from our wide range variety of used laboratory furniture by Fisher Hamilton today.
This manufacturer offers the most comprehensive selection of lab furniture for your lab. Our expert staff at National Laboratory Sales is a group of talented project specialists who prefer to be involved with you in your earliest planning stages. They will assist you in the design, budget, project management and installation of your laboratory with successful results. We carry a full line of furniture and are able to suit many laboratory needs due to our large inventory of various styles, manufacturers, sizes and configurations. Call us today when you're thinking about purchasing Fisher Hamilton furniture for your facility!
---
Fill out our form below to contact National Laboratory Sales today and let us know if you're interested in receiving more information about any of our used Fisher Hamilton laboratory furniture!